Croydon Council have commenced a pilot scheme with Kensa Contracting to install a low-carbon fifth generation district heating system for its residents that will cut the cost to residents and the environment.
The ground source heat pumps at the Croydon council-owned 10-storey block in New Addington will cut carbon emissions, help improve air quality, and save up to £300 per home per year on more than 40 households' heating bills.
The project comes after Croydon Council declared a climate emergency this summer, and aims to contribute towards a local target of cutting the borough's carbon emissions by 34% by 2025.
Kensa Contracting will be undertaking the ground source heat pump installations, following on from an award-winning tower block retrofit scheme in Enfield, featured in the Mayor's London Climate Action Week.
The 44 flats are the first in Croydon to have ground source heat pumps retrofitted, replacing the existing electric storage heaters. An individual Kensa Shoebox ground source heat pump will be installed in each flat, connected to an ambient shared ground loop array.
The ambient nature of the heating distribution system will prevent overheating of communal areas, whilst the individual heat pump in each flat will provide the tenant with independent control and the freedom to switch fuel suppliers for the cheapest energy tariff.
As well as saving each home between £260 and £300 a year off their bills, the ground source heat pumps will cost less for the council to maintain than storage heaters.
The replacement of the tower block's electric storage heaters with Kensa's ground source heat pump system cuts lifetime carbon emissions by the equivalent of a 242,317-mile car journey; or driving around the world ten times! The average night storage heater produces approximately 2,001kg of carbon dioxide per year, compared to the new ground source heat pump system that produces around 645kg per year.
Kensa expect to complete the works by spring 2020, timed to coincide with an 18-month, £3.2 million refurbishment to the block including new insulation, a replacement roof and windows, landscaping and new parking.
The £700,000 heating system will be funded through the council's ring-fenced housing budget and via energy credits from energy regulator Ofgem.
Councillor Alison Butler, deputy leader and cabinet member for homes and Gateway services, said:
Many Croydon tenants find paying their winter fuel bills a struggle, so this pilot scheme and wider refurbishment will make a real difference by ensuring their homes are warmer, more energy-efficient and cheaper to run.
Councillor Stuart King, cabinet lead for environment and transport, said:
Making Croydon more sustainable is a key council priority, and by both cutting carbon emissions and residents' heating bills this project underlines our commitment to improving the environment.
Croydon Council | Tower block
Croydon Council | Borehole drilling
Croydon Council | Aerial view
Croydon Council | Drilling work
Croydon Council | Ground view
Croydon Council | Grass areas
Croydon Council | Installations
Croydon Council | GSHP Installations
Croydon Council and Kensa Contracting Ground Source Heat Pump drill rig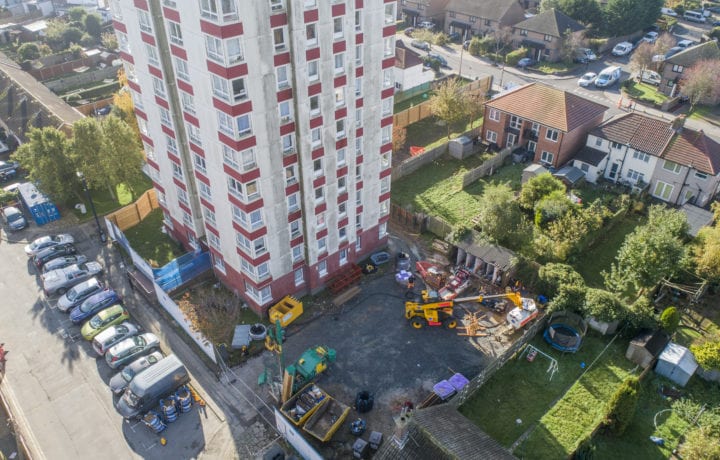 Croydon Council | Tower block & Ground Source Heat Pump drill rig
Croydon Council | Logo